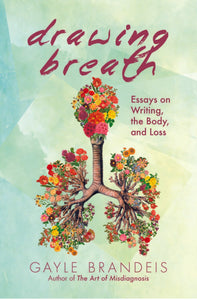 Drawing Breath: Essays on Writing, the Body, and Loss - Gayle Brandeis
Drawing Breath: Essays on Writing, the Body, and Loss is a compelling collection of essays by Gayle Brandeis that explores the profound connection between writing and the embodied life. With precision and rhythm, Brandeis keenly portrays her emotions, captivating readers from the start and evoking a universal resonance from the intimately specific.
In this book, Brandeis fearlessly delves into her own experiences, weaving together themes of loss, love, mental illness, and the challenges of living in a tumultuous world. Through her powerful and tender writing, she explores her mother's mental illness and suicide, her father's dementia, and her own struggles with body issues and desire.
The essays in Drawing Breath are a testament to the strength and fragility of the invisible aspects of life, such as breath, hauntings, and the relationship with one's own art. Brandeis's writing is a transformative journey, inviting readers to reflect on their own lives and the power of storytelling. She amplifies silenced stories, both her own and those of other women writers, creating a chorus of voices that celebrate the art of writing and its capacity to connect and heal.
Drawing Breath is a necessary salve for our tumultuous times, reminding us of the beauty and resilience that can be found in the depths of our experiences. Gayle Brandeis, a PEN/Bellwether Prize-winning writer, has a remarkable body of work that spans novels, poetry collections, and a memoir. Her writing has been widely published in prestigious publications, and she has received numerous honors and awards for her literary contributions. Drawing Breath is a testament to her talent and the impact of her words on readers.

What People are Saying about Drawing Breath

"Drawing Breath is a necessary salve in our tumultuous times." -Suzanne Roberts, Animal Bodies: On Death, Desire, and Other Difficulties
"Drawing Breath is both intimate and inventive, deeply personal and culturally relevant. This book, in a word, is breathtaking."
—Maggie Smith, Goldenrod
This biblio-essay collection is a joy! Brandeis lifts up a diverse group of women writers by setting their words alongside her own, creating a chorus of women giving voice to silenced stories. I devoured this book."
 — Jill Talbot, The Way We Weren't: A Memoir
About the Author
Gayle Brandeis is the author most recently of the novel in poems Many Restless Concerns (Black Lawrence Press), shortlisted for the Shirley Jackson Award, and the memoir The Art of Misdiagnosis (Beacon Press), as well as several novels, a poetry collection, and a writing guide. Her work has appeared in The New York Times, Washington Post, Salon, and more. Awards include the PEN/Bellwether Prize and the Columbia Journal Nonfiction Prize. She teaches in the low residency MFA programs at University of Nevada, Reno at Lake Tahoe and Antioch University.
---
We Also Recommend
---