Posted by Olenka Burgess on
Sunlight streamed through the open garage door of Portland, Oregon's Gigantic Brewing Company's Tap Room and Champagne Lounge last Saturday, illuminating gorgeous stacks of books, delicious hors d'oeuvres, and a multitude of prints from several artists featured in Matt Wagner's newest book, The Tall Trees of Paris. Gigantic Brewing is a true gem, off the beaten path but well worth the trip, and familiar faces as well as new friends came to celebrate contemporary French art with us. Some of our readers who already own Wagner's The Tall Trees of Portland and The Tall Trees of Tokyo came to complete their set, while others...
Posted by Poppy Milliken on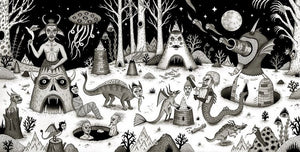 For a smaller city, Portland Oregon has a fairly active arts scene. The tradition of First Thursday began back in 1986 and has grown into a full fledged monthly art affair with spin off events like Last Thursday on Alberta (now in its 19th season). Tucked up in the 27th block of NE Alberta, Antler Gallery has been showcasing local artists since 2012. Founded by Susannah Kelly and Neil Perry, the gallery is dedicated to keeping the Alberta Arts District alive and well. We have a special affection for Susannah and a number of the artists represented by the gallery, as...