OVERCUP BLOG — Buckminster Fuller: Poet of Geometry
Posted by Stephen Hyde on
On June 5th we'll be celebrating World Environment Day. It's the United Nations most important day to encourage worldwide awareness of environmental protection. It's only fitting, then, that we take a look at some of the greatest--if underutilized--energy-saving ideas created by Buckminster Fuller. Geodesic Domes   When you think of Bucky Fuller, you think of the dome. What really appealed to Bucky was the fact that a geodesic dome's interlocking triangular beams were far stronger than their rectangular counterparts. When you apply pressure to one side of a rectangle it buckles under the weight and folds in on itself. A...
Posted by Olenka Burgess on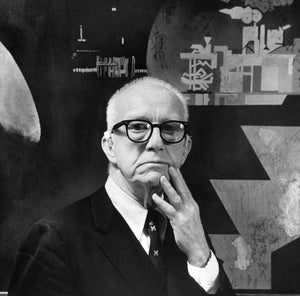 In 1975, when Buckminster Fuller was almost eighty, he gave a series of lectures on his life's work. These talks span over forty hours and cover science, mathematics, architecture, design, philosophy, history, education, and more. They are collectively called "Everything I Know" and were unrehearsed, delivered "completely extemporaneously," as Fuller describes. He says, "I'm working on a mental tapestry, and I am introducing thoughts, and so forth, and I am bringing in threads and you'll find me continually weaving."  You can get a taste of the lectures in this lightly edited version of the first session:Full recordings of all the...