Posted by Overcup Marketing on
Native Hawaiians have a similar celebration of Thanksgiving called Makahiki. Through the years, the traditions and festivals have evolved.
Tags:

art, author, authors, autumn, book, book gifts, Books, bookstore, bookstores, celebrate, drinking, event, events, fall, food, Food and Drink, give thanks, Hawaii, Hawaiian Thanksgiving, Hawaiian tradition, history, holiday, holiday markets, holidays, indie authors, indie bookstore, indie bookstores, indie press, information, liz prato, local, Makahiki, non-fiction, november, oregon, Overcup Press, overcupbooks, past, pdx, Portland, publisher, publishing, read, reading, related-volcanoes-palm-trees-privilege, Thanksgiving, upcoming
Posted by Olenka Burgess on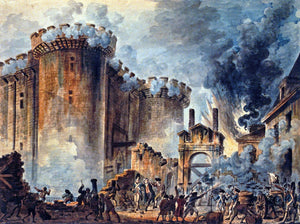 "Prise de la Bastille" (Storming of the Bastille) by Jean-Pierre Houël (Public domain courtesy of the National Library of France via Wikimedia Commons) On July 14, 1789, in response to widespread unrest and economic crisis during the rule of Louie XVI, hundreds of French commoners stormed the Bastille prison in Paris. The prison was a symbol of royal authority, so overtaking it sent a clear message to the aristocracy: enough is enough! Although Bastille Day commemorates the beginning of the French Revolution, the whole world likes to join in the party. Down with monarchy! Long live democracy! Here in the...