Posted by Garrett Eklof on
'Tis the season to be together — happy, hopeful, and in love — and not alone in a very dark room, with your jade plant, wondering what could've been as you stalk your perfectly engaged ex on Instagram. Getting out there is hard — especially when "out there" is out of the house — so here are 4 cocktails to help take that edge off. Come on, let's celebrate! It's VALENTINE'S DAY. 1) Earl Grey Tea Cocktail There are zero social stipulations holding you back today (though there may be legal: if you have to go into work, or in...
Posted by Alan Gill on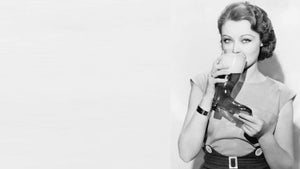 It's the most popular alcoholic beverage in the US, and the second most popular in the world. It's also one of the oldest—first discovered during the Neolithic era, around 9,500 BCE. This beverage was an integral part of societies from Mesopotamia to medieval Europe. And despite its widespread popularity, and initial inclusivity to women, its production has become a real boy's club—excluding women not only from its ranks, but largely from its customer base as well. In fact, in the US, women make up only twenty-five percent of its consumers and ten percent of its industry jobs. Any ideas as...